Top Electric Motorcycle Conversion Kits, Cost & Process
Well, are you considering converting your normal motorcycle into an electric one? If so, you might be wondering what parts are required in the conversion process and how much it will cost.
Here's an in-depth guide to electric motorcycle conversion that covers everything you need to know, including the electric motorcycle conversion kit price, conversion cost, and complete process. With this guide, you'll have all the information you need to make an informed decision and turn your dream of an electric motorcycle into a reality.
So, how was this impressive feat achieved? Alex Grieve, the mastermind behind the Monstercycle, built this bike in his own garage. In his video, he wants to share with you the process he went through and the components he used to build this electrifying ride. From the best-handling motorcycle ever ridden to its top speed of 145 mph, this electric bike is sure to leave you in awe. 
In this guide, I'll be using my own experience with my 1985 Honda VF700 Sabre as an example. This bike has been successfully transformed into a high-performance electric motorcycle, with a 0-60 mph acceleration time of just 3.5 seconds and a range of 160 miles per charge. So, whether you're a seasoned rider or just starting out, this guide will provide you with all the information you need to take your riding experience to the next level.
Are you interested in building your own electric motorcycle? Look no further, because Alex Grieve is here to guide you through the process and help you build your own "Monstercycle."
Electric Motorcycle Conversion Cost?
The electric motorcycle conversion process is not cheap (yes, it is similar to what a new electric motorcycle would cost you), with the total cost of an electric motorcycle conversion being $11,400 (this might get very dependent upon the parts selections and availability).
The components and systems used in the conversion were carefully chosen to ensure the best performance possible, including a 1985 Honda VF700 Saber frame, a NetGain Hyper 9 motor with the controller, and a 36X LiFePO4/120 amp-hour battery.
Regardless of cost, you now have a high-performance electric motorcycle that accelerates from 0 to 60 mph in just 3.5 seconds, has a top speed of 145 mph, and a range of 155 miles in hilly, highway 175 miles on the range, and 190 miles on the city.
Electric Motorcycle Specifications (After the conversion Process)
| Specification | Details |
| --- | --- |
| Top Speed | 145 mph |
| 0-60 mph | 3.5 seconds |
| Peak Rear Wheel Torque | 450 lb-ft |
| Range (in miles) | 155 (mountain terrain), 175 (highway), 190 (city) |
| Total Cost | $11,400 (may vary in your case) |
Electric Motorcycle Conversion- Parts Details 
| Conversion Part | Description |
| --- | --- |
| Frame | 1985 Honda VF700 Sabre |
| Front End | 1984 V65 Sabre 41mm with All Balls tapered bearings (due to added weight) |
| Rear Shock | Hagon performance shock with 200-weight spring |
| Tires | Pirelli Sport Demon |
| Brakes | Regenerative power-assisted rear drum and stainless steel lined dual disc in the front |
Used Electric Systems in the Motorcycle Conversion 
| Electric System | Description |
| --- | --- |
| Motor | NetGain Hyper 9 with controller  (link) |
| Transmission | Direct drive (no gearbox) |
| Battery | 36X LiFePO4/120 Ampere-hour cells in series (Link) |
| Battery Management | Orion BMS2 – (Link) |
| Charger | TCCH 1.8kW –  (kit Link) |
| Throttle | EV West lever potentiometer dual channel – (Link) |
| Regen Brake | Mobility scooter 5K potentiometer (you can use a second throttle potentiometer for this) |
| 12V Battery | Home-built lithium phosphate 5 Ah |
Top Electric Motorcycle Conversion Kits
| Company | Conversion Kit |
| --- | --- |
| Brammo | Fits most standard bikes |
| Cafe Electric | Yamaha XT600 |
| Zero Motorcycles | Honda CB series |
| Evelo | Standard bicycles |
| Grin Technologies | Various bikes |
| Electric Motion Systems | Yamaha WR250F, Honda CRF250L |
| C&R Motorsports | Suzuki Savage |
California-based electric motorcycle company, Brammo, offers a conversion kit that fits most standard bikes and can be installed in as little as 2 hours.
Cafe Electric, based in New Mexico, offers a kit for the Yamaha XT600, a popular dual-sport motorcycle, and also sells kits for a number of other popular models.
Zero Motorcycles, a leader in the electric motorcycle industry, sells a conversion kit for the Honda CB series, a popular choice for custom bike builds.
Evelo offers a conversion kit for standard bicycles, allowing you to convert your existing bike into an electric bike in just a few hours.
Grin Technologies, based in Canada, sells a range of high-quality conversion kits for a variety of bikes and also provides detailed installation instructions and technical support.
Electric Motion Systems offers conversion kits for several popular models of dirt bikes, including the Yamaha WR250F and the Honda CRF250L.
C&R Motorsports offers a conversion kit for the popular Suzuki Savage, a classic cruiser-style motorcycle.
"985 Honda VF700 Sabre "

Motorcycle Conversion, Parts & Review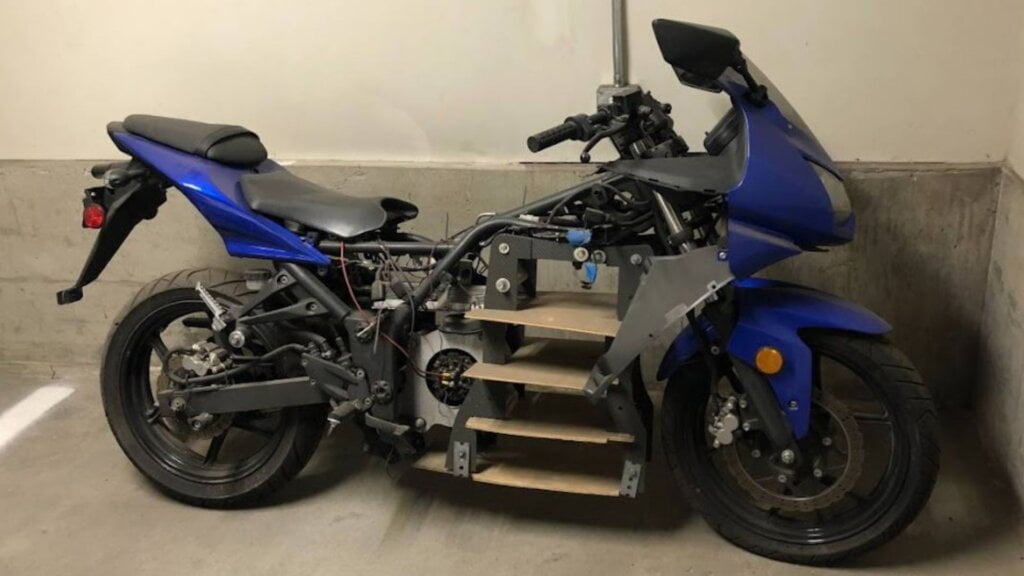 Motor & Torque 
I used a Net Gain Hyper 9 brushless DC motor for this electric motorcycle. The brushless DC motor was chosen because it is the most efficient of the three types of motors used in electric vehicles (AC induction motor, series wound DC motor, and brushless DC motor). The brushless DC motor also has the capability for regenerative braking, which allows for the energy from slowing down to be used to charge the batteries. The motor is directly coupled to the drive shaft, eliminating the need for a gearbox, resulting in a direct drive.
The motor produces 88 kilowatts, or about 120 horsepower, and has a torque output of 173 pound-feet. The combination of the direct drive and 3.4 to 1 gearbox results in a torque output of around 500 pound-feet to the rear wheel. The electric motor provides the instant acceleration, which is not possible with a gas engine. The twist of the throttle provides immediate power and the acceleration is silent.
Motor Power
The NetGen Hyper 9 brushless DC motor used in the electric motorcycle conversion has a capacity of 88 kW, which is equivalent to approximately 120 horsepower. The motor also has a torque output of 173 pound-feet, which with the help of a 3.4 to 1 gearbox, is extended to nearly 500 pound-feet of torque to the rear wheels.
These electric motors have an advantage over gas engines in that they have a nearly flat torque curve, which means they have constant acceleration, unlike gas engines, which generate more power as speed increases.
The motor was overkill for a motorcycle but was chosen because of its high power and regenerative braking capability. The motor has a nominal power of 35 kW and I only use about 5 kW at highway speeds.
Motor Controller
The motor controller is a crucial component in an electric motorcycle. It is what controls the brushless DC motor and is necessary for the operation of the motor. The controller needs inputs such as throttle and brake to function. The throttle is controlled by a potentiometer that is connected to the throttle cable. The regenerative brake is controlled by a scooter potentiometer that is connected to the clutch lever.
The controller also has a maintenance switch to turn off the power and a master contactor to control the power. The bike has a master contactor that is connected to a 600 amp fuse to protect the motor which takes 750 amps at peak.
Batteries & lithium iron phosphate Review
The motorcycle has a 36-cell 120 amp-hour lithium iron phosphate battery with a capacity of about 14-kilowatt hours. This chemistry was chosen due to its long life of 12 to 15 years compared to the 6 to 8 years for other lithium chemistries. The cost of charging the battery is about a dollar and a quarter, which provides a range of 160 miles. The 36-cell 120 amp hour battery provides a longer life compared to lithium-ion or lithium polymer batteries, which are typically used in cell phones and have a life expectancy of 2 years.
Lithium iron phosphate batteries have a longer life expectancy compared to other lithium-ion batteries and are also less flammable.
However, they are heavier and have a higher weight penalty.
The key to choosing the right battery for an electric vehicle is to ensure that the discharge current does not exceed twice the battery's capacity.
Lithium iron phosphate batteries are rated for 360 amps and can handle high discharge rates without losing capacity, making them ideal for high-power electric motors.
Lithium cobalt manganese is another option for those looking for a lighter battery with good performance, but it's important to note that the peak power of the motor should not exceed double the battery's capacity.
Why lithium iron phosphate for Conversion?
Lithium iron phosphate batteries are durable and long-lasting. They are rated at 3 C, which means they can discharge 360 amps each. The batteries can withstand high discharge rates and can handle a motor that takes 750 amps. They are also non-flammable. Lithium cobalt manganese is a lighter alternative but should not be used with a motor that has peak power more than double the battery's capacity.
Electric Motorcycles

Balancing

with the batteries

The electric motorcycle has extra batteries added to the side in order to counterbalance the weight of the electric motor and keep the center of gravity in line with the vehicle. The balance of the motorcycle is critical, not only side to side but also front to back. The bike was made to be front-heavy, so some of the batteries were moved back and some were even added under the seat. The batteries were placed on the side to keep the center of balance straight down on the bike and avoid it falling to one side at low speed.
Battery Management systems & Its Importance
This electric motorcycle is set up for really fast charging, so most people set their motorcycle to charge with a slow charger which will probably take eight hours or more to charge the battery pack, but I have one here there is a fast charger I can charge it in about two hours and it just takes a little extra power management to do that.
but the charger is going to plug into the battery management system and then the BMS will control the incoming charge Will do What is going to happen? Is the charger going to make sure the charger is putting out the right amount of energy at the right time and it's going to prevent overcharging that's really important because if I overcharge my battery pack I'm going to kill the cells I have been These batteries can cause damage or even potentially start a fire. That's why a battery management system is an important component when you're building an electric motorcycle.
Read More:
Charger and Charging time
I have a built-in charger with a 1.8-kilowatt capacity that can run on either AC 110 or 220 volts. At 110 volts, it takes about 14 hours to charge my bike, which has a 14-kilowatt-hour battery, but at 220 volts, it takes about 6 hours to charge from dead flat. I can plug it into any wall outlet to charge it up, but I have a welding outlet near my garage for faster charging. I don't usually run it dead flat, so it only takes about 2 hours to charge it up from daily use.
I have a black box, which is a DC-to-DC converter, that is necessary for every electric vehicle. It steps down the 120 volts from my battery to 12 volts for my electronics such as my brake light, turn signals, headlight, and horns.
Read More: US EV Tax Credits Explained
It's also important to note that the bike will become heavier than the original. This bike weighs between 500 and 560 pounds, and I had to replace the head bearings with tapered roller bearings to support the added weight.
Suspensions
Talking about this electric motorcycle suspension, Most motorcycles have suspension that leaves a lot to be desired, so I upgraded the rear shock on this bike with a Hagon shock from the UK. I asked them to use a spring with a 200 rate to deal with the added weight. It typically would take a 160, but because of the added weight I asked for a 200, and it worked out great. I also upsized the front end and put thicker fork oil in there for added weight.
Note: The information in this article has been taken from the YouTube channel "Higher Voltage" by Alex Grieve for informational purposes.