2023 HiPhi Z EV Price, Range, and Release Date
The HiPhi Z EV is the most futuristic electric car in China and has already entered production. The electric car boasts a massive 120 kWh battery pack and a range of 438 miles on a single charge. The price of the HiPhi Z EV is expected to start from $90,000 in the US (and 618516 in the Chinese Yuan currency).
---
Chinese automaker Human Horizons has released some more information about their upcoming electric grand tourer, the HiPhi Z Electric Sedan. This electric car promises to redefine traditional GT cars and offer drivers a sleek, futuristic ride that combines advanced technology with high performance.
2023 HiPhi Z EV Price & Release Date
The HiPhi Z will be available in China by 2023 at an expected price of $90,000 and $129,000, with official rollout dates to be announced at the Chengdu Auto Show in August.
2023 HiPhi Z EV Exterior and Designs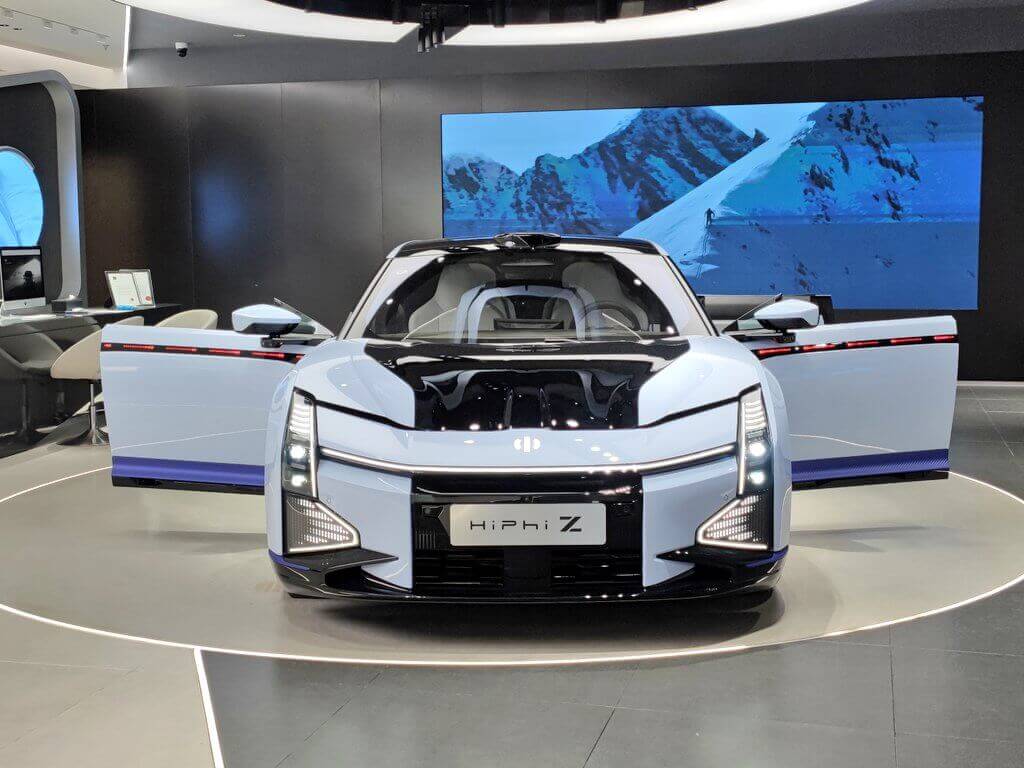 The HiPhi Z features a stunning design that combines muscular surfaces with a narrow glasshouse and wrap-around Star-Ring ISD light curtain consisting of 4,066 individual LEDs. The lights interact with passengers, drivers, and the environment around the car, making the HiPhi Z a truly unique vehicle.
Inside, the HiPhi Z is equipped with HiPhi Bot, an AI assistant that can automatically adjust every aspect of the driving and passenger experience. The vehicle also features a central screen that can rotate from a landscape to a portrait orientation, soft-touch Ultrasuede Bio Galaxy fabric, and ambient panel lights. Additionally, a 23-speaker Meridian audio system and racing-style bucket seats wrapped in vegan leather are included.
All-Electric HiPhi Z EV Performance
The HiPhi Z is powered by a 120-kWh high-performance battery pack that utilizes Cell to Pack (CTP) technology to provide up to 438 miles of range on China's CLTC cycle. The vehicle can accelerate from zero to 62 mph in just 3.8 seconds, but Human Horizons has not yet released details about the rest of the powertrain.
Read More: list of Cheapest Electric Cars in the USA Under $30,000
Under the hood, the HiPhi Z features a lightweight hybrid aluminum-steel construction and an all-aluminum double-wishbone front suspension. It also has a five-link rear suspension, air suspension, and Continuous Damping Control (CDC). The car's rear-wheel steering and IVC vehicle dynamic control system give it a turning circle similar to that of a Mini Cooper.
For automated driving functions, the HiPhi Z is equipped with an NVIDIA Orin X chip and QNX Neutrino real-time operating system (RTOS) that manage 34 sensors and LiDAR technology. The car can perform assisted driving and parking, as well as smart summons using the smartphone app.