Top 7 Upcoming BMW Electric Cars in 2023-24
German automaker, BMW, is at the forefront of the electric vehicle revolution, with a range of exciting new models set for release in 2023 and 2024. As the world moves towards a greener future, BMW is positioning itself as a leader in luxury electric. vehicle market. With a range of cars across different segments, BMW's lineup of EVs is all set to shake up the industry.
From compact city cars to luxurious sedans, the upcoming BMW EVs are a testament to the company's commitment to sustainability and cutting-edge technology. In this article, we take a look at the top 7 BMW electric cars to watch out for in 2023 and 2024.
| | | | | | |
| --- | --- | --- | --- | --- | --- |
| Car Name | Price | Range (miles) | Motor | Horsepower | Battery Size (kWh) |
| 2023 BMW i5 | 70,000 – 75,000 USD | Over 310 | Single motor (entry-level) | 250 kW | 80.7 kWh |
| 2023 BMW i5 xDrive 40 | – | TBA | Two motors | TBA | – |
| 2023 BMW i7 | 121,000 USD | Approx. 300 | Two motors | 536 HP | 101.7 kWh |
| 2023 BMW ix5 | Over 100,000 USD | TBA | Fuel cell + electric drive battery | 374 HP | – |
| 2023 BMW iX1 (European market) | 40,000 USD | 256 – 272 | Two motors | 313 HP (230 kW) | 64.7 kWh |
| BMW 1 series | approximately $33,000 | – | – | | 10 kilowatt-hour battery |
| BMW ix3 | $65,000 | – | – | 282 horsepower | – |
| BMW i4 | $60,000 | 282 miles | – | 335 horsepower | – |
2023 BMW 1 series
BMW's 1 Series hatchback is undergoing electrification and is expected to arrive in the United States in 2023.
The outgoing X1's xDrive25e could serve as the basis for a future plug-in hybrid version of the One Series. The upcoming BMW iX1 will prove that the platform is suitable for zero-emissions full range when it goes into production.
The M135i Xdrive will continue to deliver the highest level of performance available. The One Series makeover could introduce hybrid technology based on the 10 kWh battery support configuration in the X1 for the first time. The One Series engine lineup could include a plug-in hybrid engine option with at least 30 miles of range using only electricity.
The expected price of this new model is around $33,000.
BMW ix3 Electric Car
The BMW iX3 is a pure electric SUV that offers a unique combination of performance and efficiency. With its 282 horsepower, it can go from 0 to 60 mph in 6.8 seconds, while reaching 3.5 mph in kilowatt-hours.
The vehicle's regular driving range is approximately 260 miles, which can be recharged from zero to 80% in 27 minutes on a 150 kW ultra-rapid charge and from empty to full in 12 hours on a 7 kW wall box.
The expected price of the iX3 is around $65,000.
2023 BMW i4 Electric Car

The BMW i4 is a new variant of the BMW I series with a black glossy kidney grille and a low-slung 3-box look. It is built on the CLAR architecture and comes in two engine options: i4 M50 and eDrive 40.
The i4 M50 is rear-wheel drive with a single rear axle-mounted electric motor that generates 335 horsepower and 317 pound-feet of torque. The eDrive 40 is a front-wheel drive with two electric motors, one at the front and one at the rear. It has a claimed range of 301 miles on 18-inch wheels and 282 miles on 19-inch wheels. The i4 can accelerate from 0 to 60 mph in just 5.5 seconds and reach a top speed of 118 mph.
The i4 is expected to cost upwards of $60,000.
2023 BMW i5 Electric Car
BMW is expected to launch a new mid-size electric vehicle, the BMW i5, which will get the same treatment as the BMW i4 and i7, using the Kleer platform and powertrain. The entry-level model of the i5, the G60, will feature a single electric motor producing 250 kW and an 80.7 kWh battery pack capable of traveling more than 310 miles on a single charge.
Read More:
2023 BMW i5 M50
There will be two models: the i5 M50 and xDrive 40. The latter will have two electric motors and is expected to be more powerful with a total output of 544 horsepower (400 kW) and a 0-100 km/h range. under 4 sec.
The price is estimated to be around $70-75,000.
 BMW ix-5 Hydrogen Car
BMW also plans to roll out an ix-5 hydrogen fleet later this year, with 700 Bars used to power a hydrogen fuel cell stored in carbon-fiber-reinforced plastic tanks. The fuel cell alone delivers 170 horsepower, but it also uses a large electric drive battery that can be recharged using the fuel cell or energy recovery.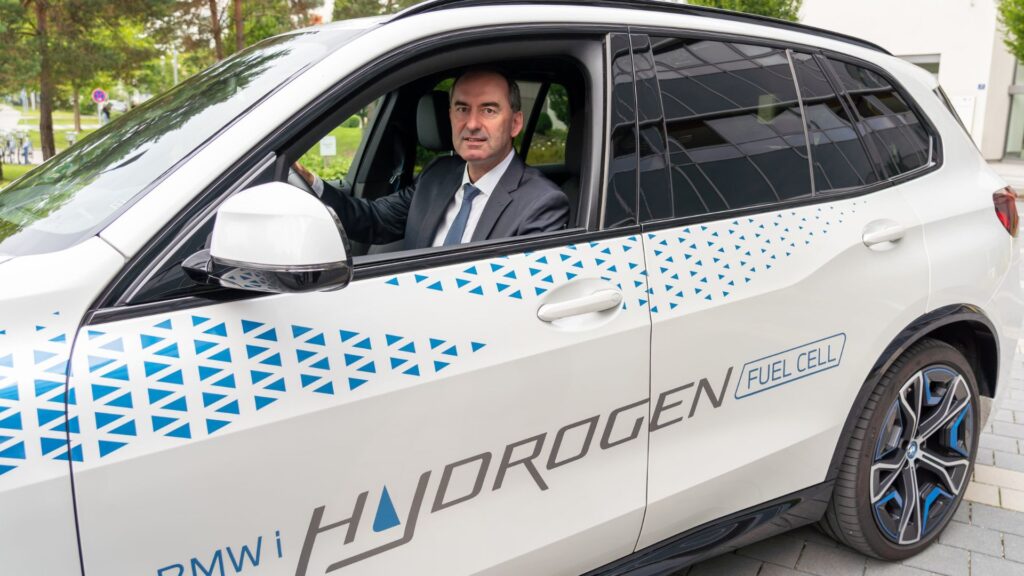 The drivetrain's total output is 374 horsepower, which is plenty compared to the 389 horsepower X5 xDrive 45e plug-in hybrid. The IX-5 Hydrogen has regenerative brakes that allow one pedal power control and the driving experience is similar to that of an electric vehicle. The exterior design features blue accents and closed-off exhaust housings.
The price range is estimated to exceed $100,000.
2023 BMW ix1 Electric Car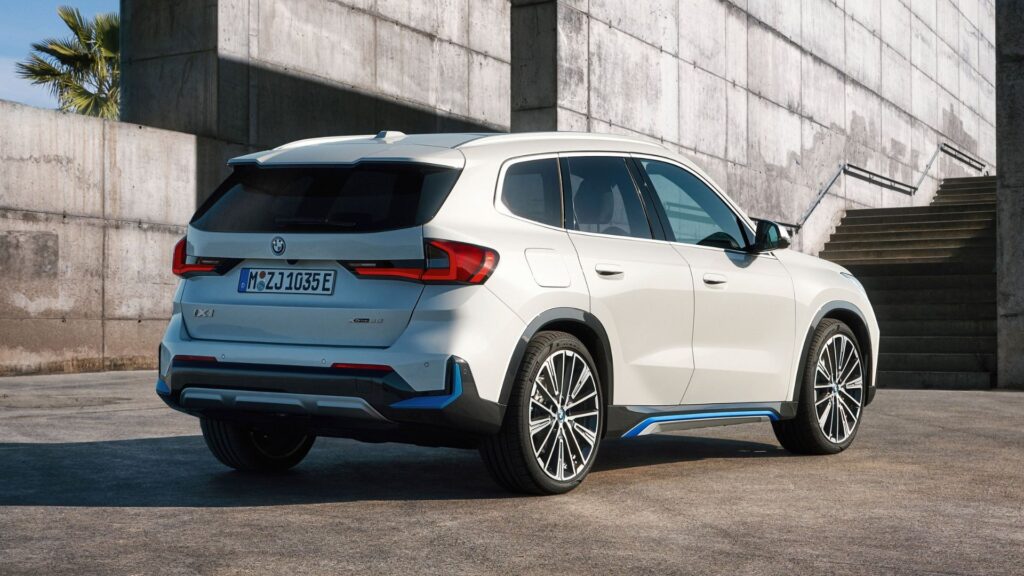 The BMW iX1 is set to become the brand's first all-wheel drive small electric vehicle. It has a fully electric drivetrain with two motors, one for each axle, and no combustion engines. With a total system output of 313 horsepower and 364 pound-feet of torque, the iX1 is one of the most powerful members of the X1 family. It can accelerate from 0 to 60 mph in under 5.7 seconds and is expected to have a driving range of 256 to 272 miles on a single charge.
Electrical energy is stored on a flat surface mounted on a 64.7 kWh battery. The expected price of the BMW iX1 is around $40,000.
2023 BMW i7 Electric Car
BMW is following in the footsteps of rival Mercedes-Benz in offering the i7 as an all-electric flagship luxury sedan with its electric S-Class model, the EQS. The I7 is equipped with two electric motors, one driving each axle, producing a combined 536 horsepower. It boasts all-wheel drive as standard and quick acceleration, with BMW claiming the i7 x Drive 60 can reach 60 mph in 4.5 seconds.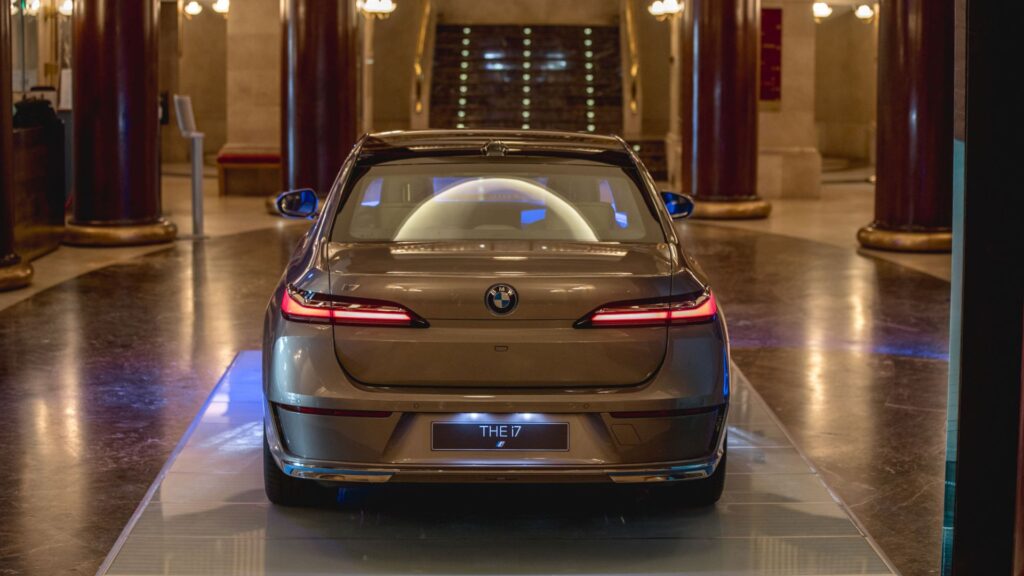 According to BMW, the i7 has a 101.7 kWh battery pack and can be charged in 10 minutes using DC fast charging stations. The company is also offering a free 30-minute charging session for three years at Electrify America charging stations with the sale of every new i7. The i7 has an estimated range of about 300 miles, as claimed by BMW, and an estimated price range of around $121,000.