EV manufacturers and their global electrification goals
CASE's trends have put pressure on traditional OEMs to join the EV revolution. Several companies have shared plans to enhance their EV lineups. Toyota CEO Akio Toyota announced in late 2021 that the company plans to introduce 30 BEV models by 2030. Volkswagen (VW) Group CEO Herbert Diess shared in May of 2022 that "Today, [VW] customers can buy. an electric option for nearly all models. Efforts to electrify the line-up extend only to Toyota and VW." are not limited to;
The above tables summarize the electrification targets of several OEMs. CASE's trends have put pressure on traditional OEMs to join the EV revolution. Several companies have shared plans to enhance their EV lineups.
Toyota CEO Akio Toyoda announced in late 2021 that the company plans to introduce 30 BEV models by 2030. Volkswagen (VW) Group CEO Herbert Diess shared in May of 2022 that "Today, [VW] customers can buy an electric option for almost all models. Efforts to electrify the line-up are only limited to Toyota and are not limited to VW; the Table summarizes the electrification goals of several OEMs.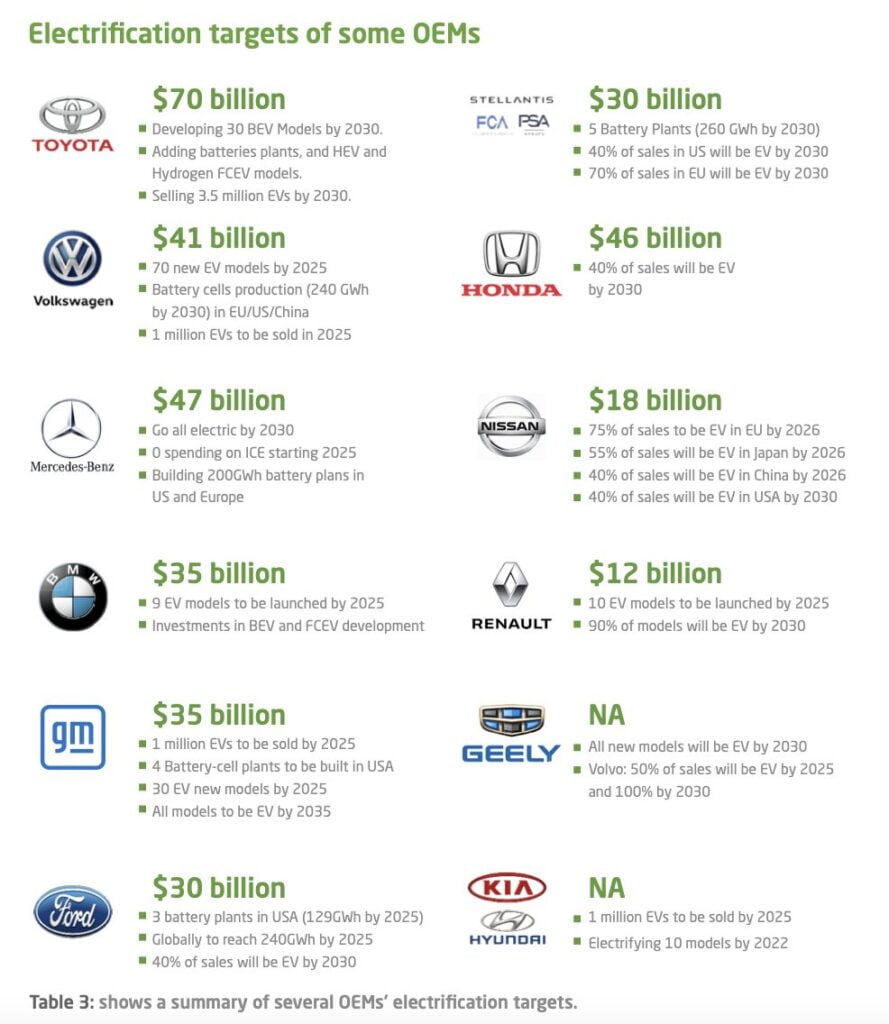 Toyota-
$70 Billion 
Developing 30 BEV Models by 2030.
Adding batteries plants, and HEV and Hydrogen FCEV models.
Selling 3.5 million EVs by 2030.
Mercedes Benz-
$47 billion
Go all electric by 2030
0 spending on ICE starting 2025
 Building 200GWh battery plans in US and Europe
Honda-
$46 billion
40% of sales will be EV by 2030
BMW –
$35 billion
9 EV models to be launched by 2025
 Investments in BEV and FCEV development
GM Motors-
$35 billion
1 million EVs to be sold by 2025
4 Battery-cell plants to be built in USA 30 EV new models by 2025
All models to be EV by 2035
Ford-
$30 billion
3 battery plants in the USA (129GWh by 2025)
Globally to reach 240GWh by 2025
40% of sales will be EV by 2030
Stellantis-
$30 billion
5 Battery Plants (260 GWh by 2030)
40% of sales in the US will be EV by 2030
70% of sales in the EU will be EV by 2030
Nissan Motors-
$18 billion
75% of sales to be EV in the EU by 2026
 55% of sales will be EV in Japan by 2026
 40% of sales will be EV in China by 2026
40% of sales will be EV in the USA by 2030
Reanult-
$12 billion
10 EV models to be launched by 2025
90% of models will be EV by 2030
GEELY
All new models will be EV by 2030 Volvo:
50% of sales will be EV by 2025 and 100% by 2030
Kia Motors
1 million EVs to be sold by 2025
Electrifying 10 models by 2022
Read More: