bafang e bike Conversion kit Price and Installation
Buffang is a USA-based EV Startup, that specializes in providing e-bike conversion kits to help people convert their conventional bikes into electric bikes. With the modular system offered by Bafang, you can choose from three types of motors, three types of batteries, and two types of displays to build your own electric bike. bafang e bike Conversion kit is economical and very easy to install.
Whether you're into mountain biking, road biking, or just want a bike for commuting, Bafang has you covered with their powerful motors that can deliver up to 33 pound-feet of torque and 250 watts of power. With the option of choosing from a variety of battery configurations, you can decide whether you want the battery inside the frame tubes, hanging from them, or mounted on the rear wheel.
Read More:
In addition to choosing a battery, you also have the option of choosing between an LED and LCD display, allowing your electric bike to be customized to your specific needs. Building your own electric bike has never been easier, and the possibilities are endless with the options provided by Bufang.
So why not dare to build one and experience the thrill of electric biking?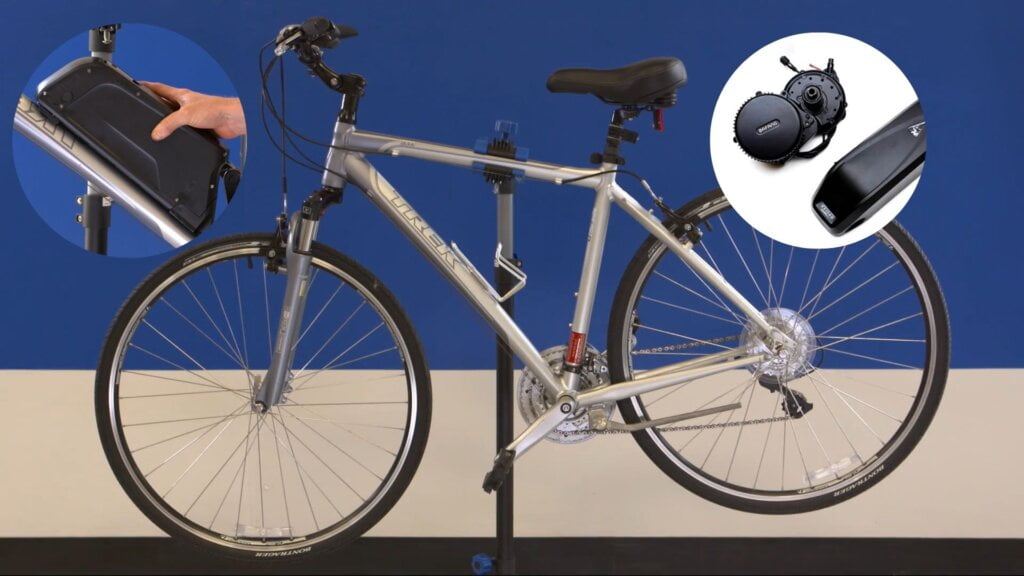 bafang e bike Conversion kit Price
| Feature | Bafang Front Hub | Bafang 750W BBS02   | Bafang 1000W BBSHD |
| --- | --- | --- | --- |
| Price | $799.00 | $799.00 | $999.00 |
| Motor | Front Geared Hub Wheel | Brushless Geared Mid-Drive | Brushless Geared Mid-Drive |
| Throttle | Yes | Yes | Yes |
| Pedal Assist | Yes | Yes | Yes |
| Speed | Up to 20+mph | Up to 25+mph | Up to 30+mph |
| Power | Compatible with 48 Volt Batteries | Compatible with both 48 & 52 Volt Batteries | Compatible with both 48 & 52 Volt Batteries |
| Voltage | 40 – 54.6 Volts | 40 – 59 Volts | 40 – 59 Volts |
| In Stock | Yes | Yes | Yes |
| Ships In | Typically Ships in 1-3 Business Days | Typically Ships in 1-3 Business Days | Typically Ships in 1-3 Business Days |
| Product Link | Link  | Link | Link |
BAFANG 750W BBS02 Mid Drive E-Bike Motor Kit & Battery: Specifications
| Specification | Detail |
| --- | --- |
| MOTOR | Brushless Geared Mid-Drive Motor |
| THROTTLE | Yes |
| PEDAL ASSIST | Yes |
| SPEED | Up to 25+mph (Estimate) |
| POWER | Compatible with both 48 & 52 Volt Batteries |
| VOLTAGE | 40 – 59 Volts |
| IN STOCK | Yes |
| SHIPS IN | Typically Ships in 1-3 Business Days |
| RATED WATTAGE / MAX WATTAGE | 750W / 1,470 W |
| TORQUE | 120 – 130 N.M |
| RPM | 110 – 130 (Estimate based on riding conditions) |
| WEIGHT | The motor only is 9.5 pounds, with all motor kit parts ~13 pounds |
BAFANG 1000W BBSHD Mid Drive E-Bike Motor Kit with Battery: Specifications
| SPECS | DETAILS |
| --- | --- |
| MOTOR | Brushless Geared Mid-Drive Motor |
| THROTTLE | Yes |
| PEDAL ASSIST | Yes |
| SPEED | Up to 30+mph (Estimate) |
| POWER | Compatible with both 48 & 52 Volt Batteries |
| VOLTAGE | 40 – 59 Volts |
| IN STOCK | Yes |
| SHIPS IN | Typically Ships in 1-3 Business Days |
| RATED WATTAGE / MAX WATTAGE | 1,000 W / 1,764 W |
| TORQUE | 160 N.M |
| RPM | 130 – 150 RPM (Estimate based on riding conditions) |
| WEIGHT | The motor only is 13 pounds, with all motor kit parts ~16 pounds |
| STREET LEGAL | No |
Bafang Front Hub Motor Kit Installation- Step by Step