Electric Xpeng G9 Price, Range and Review
As the electric vehicle (EV) market continues to flourish, US investors keen on building an EV portfolio have limited choices outside of Tesla.
However, a trio of Chinese producers listed on US exchanges are slowly making their mark.
Among them, Xpeng, alongside Nio and Li Auto, has gained recognition for its impressive offerings. With a firm foothold in the European market and a commitment to technological advancements, Xpeng is making strides with its latest model, the Xpeng G9.
In this article, we explore the Xpeng G9's price, specifications, and standout features, highlighting its unique position in the EV landscape.
Xpeng's Expanding Presence
While Nio has been attracting attention, Xpeng has made impressive strides in both its domestic and international markets. Xpeng is already making waves in Europe and has successfully launched several models in Norway, Sweden, Denmark, and the Netherlands. It aims to position itself as a technology-driven company, setting it apart from its competitors.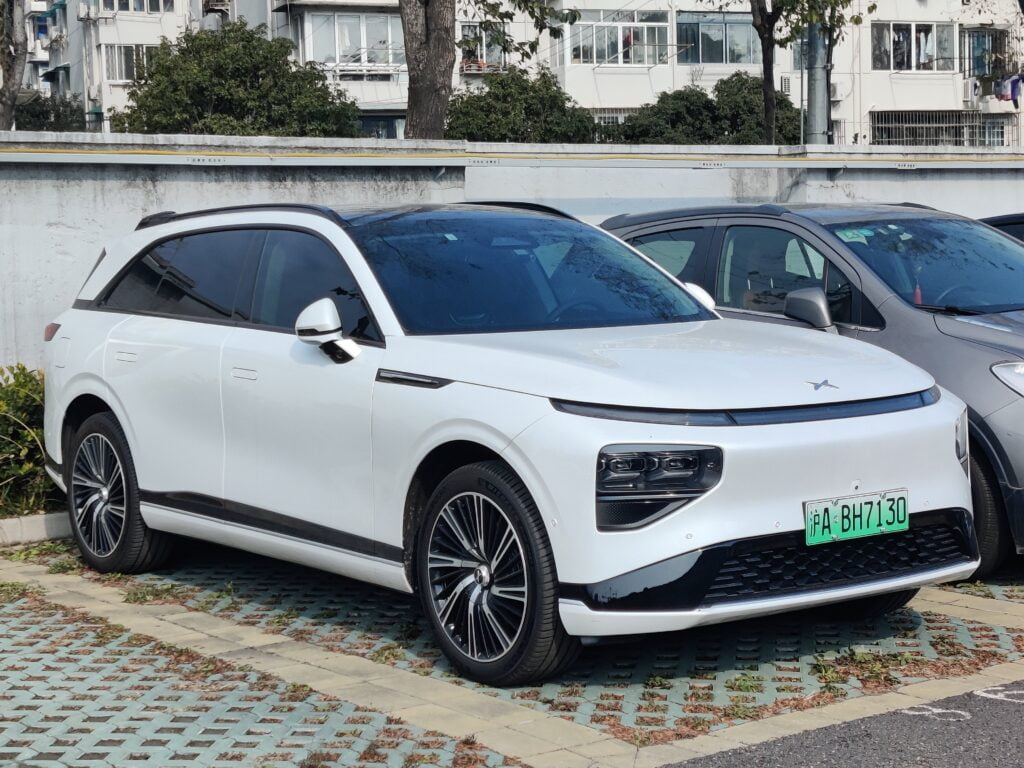 The Xpeng G9, the brand's latest offering, is a significant step towards global expansion. Unlike its predecessors, the G9 has been designed as a "world car," aimed at catering to the preferences and demands of a diverse global audience.
Xpeng G9 EV Price and Specifications
This week, Xpeng announced the launch prices for its flagship SUV, the G9, and its P7 sports sedan. Both models come with an impressive seven-year, 160,000-kilometer warranty.
The Xpeng G9 starts at €57,990 ($62,687), while the P7 comes in at €49,990 ($54,040). Prospective buyers can already place their orders for these exciting new offerings.
Design and Exterior
In terms of exterior design, Xpeng plays it safe with the G9. The midsize SUV bears a contemporary look, not particularly distinctive as an EV by US standards. The signature "X-Bot Face 3.0" and "lightsaber" running under the hood are the standout EV features.
The vehicle also boasts a spacious frunk (front trunk), providing practical storage solutions for users.
Interior and Technology
The interior of the Xpeng G9 is where it truly shines. With a length of 4,891 mm and a wheelbase of 2,998 mm, the five-seater SUV offers ample space for passengers.
Xpeng continues the trend of incorporating multiple screens into the cabin, catering to the tech-savvy audience. While some might argue that the G9's three screens fall short of other Chinese car designs, it remains well-equipped with twin 14.96-inch screens for infotainment and passenger entertainment, complemented by a 10.25-inch instrument panel.
However, what sets the G9 apart is the step up in material quality. The soft, premium feel extends throughout the cabin, making it an appealing choice for buyers seeking both comfort and sophistication.
Xpeng G9 Models and Variants
The Xpeng G9 lineup offers different variants, with the range-topping model being the all-wheel-drive 650 Max version. The model names follow a distinct pattern: the range in kilometers under China's CLTC standard followed by "Plus," "Pro," or "Max" to denote the equipment level.
Read More: 2023 Hongqi E-HS9 Price, Range and Reviews
This nomenclature reflects Xpeng's tech-oriented approach, which emphasizes the integration of advanced features in their vehicles.
The 650 Max comes fully loaded, offering four main seats with heating, ventilation, and a massage function for the front seats. Rear passengers can enjoy electrically adjustable seats for added comfort, with a flat floor further enhancing the space.
Impressive Storage Capacity 
The Xpeng G9 provides impressive storage solutions. With a generous trunk space of 660 liters, it offers ample room for everyday needs. Fold down the 60:40 split seats, and the storage capacity expands to a staggering 1,576 liters, making it ideal for longer journeys or transporting bulkier items.