2023 Subaru Solterra EV Price, Range & Features
Subaru is one of the world's leading car manufacturers. The brand was founded in Japan and is still here, there are several generations of cars of different models and years. The company has launched its all-new 2023 Subaru Solterra EV, this electric car is quite popular and has many interesting features which make it one of the best electric cars of its kind. Here in this article, we have talked about the 2023 Subaru Solterra EV price, range features, and technology.
2023 Subaru Solterra EV
Price
Manufacturer-suggested retail price (MSRP) for the 2023 Solterra electric SUV in Premium trim is $44,995, including a $1,225 destination charge. The top Limited trim costs $48,495 while the top Touring model costs just under $52,000. $890 is the price for the most expensive 2-tone premium paint option.
Range
The 2023 Subaru Solterra EV is expected to have a driving range of 228 miles in the Premium trim, while the Limited and Touring trims are expected to have a range of 222 miles.
Additionally, it is in the same range as the all-wheel drive Toyota bZ4X model. On the other hand, the range varies between 242 and 252 miles for the front-wheel drive bZ4X.
Technology
Safe, reliable, and fun to drive – the 2023 Solterra is one of the most advanced and entertaining luxury sedans out there. The Solterra 2023 brings a host of useful tech features to your car, along with a spacious cabin that offers you a comfortable and convenient drive.
This versatile vehicle comes equipped with Apple CarPlay and Android Auto smartphone integration, a wireless smartphone charger, a Wi-Fi hotspot, over-the-air updates, a multimedia system, and more.
Now, getting around town is easier with helpful features like Apple CarPlay and Android Auto smartphone integration, over-the-air updates, and a wireless smartphone charger offered by Solterra EV. Solterra offers a host of useful tech features at an easy-on-the-wallet price.
Subaru Solterra EV Interior
The electric SUV features a luxurious interior and a wide range of safety and security features as well as modern conveniences like climate control and Apple CarPlay/Android Auto. It is an ideal crossover to drive on old tracks.
The Subaru Solterra EV is a great and luxurious car that drives smoothly and smoothly. The quality of this vehicle will satisfy you as well as the people around you.
The interior of the Subaru Solverra EV is very solid. Driver safety and comfort are paramount for the manufacturer; This model is as comfortable as any Toyota due to its large seats, durable body, and comfortable seats.
Subaru Solterra EV Powertrains and Performance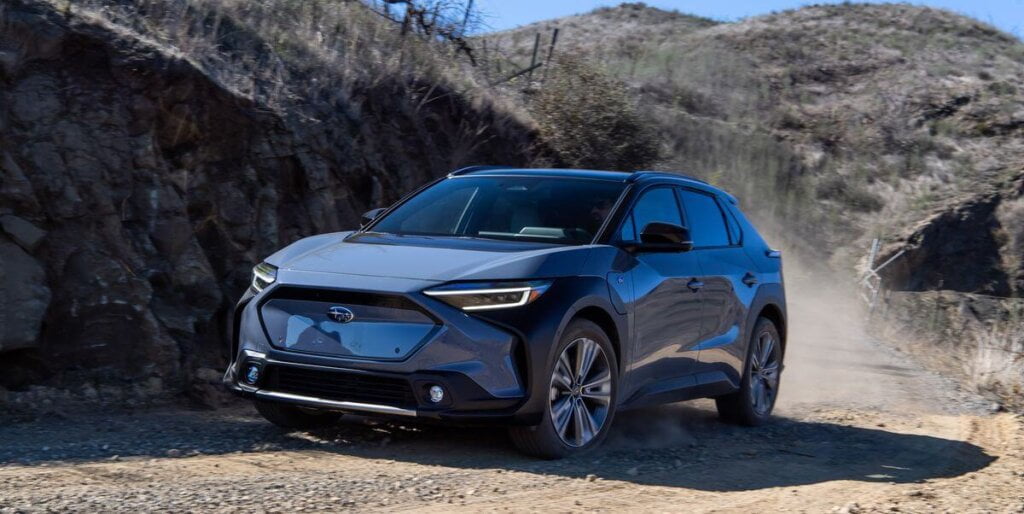 | | |
| --- | --- |
| Acceleration 0 – 100 km/h | 6.9 sec |
| Top Speed | 160 km/h |
| Electric Range | 355 km |
| Total Power | 160 kW (218 PS) |
| Total Torque | 336 Nm |
| Drive | AWD |
Subaru's all-electric Solterra EV provides a feeling of freedom and enjoyment that's hard to beat. Imagine being able to take your road trip without worrying about gas prices, maintenance costs, or traffic jams along the way.
With a top speed of 100mph, the Solterra EV features all-wheel drive and full-time 4WD traction control, keeping you in control in corners, sand and snow. With its low center of gravity and 215 hp, the Subaru is better equipped than ever to compete on the track. The EV powertrain accelerates it from 0-100 km/h in 6.9 seconds and can reach a top speed of 160 km/h.
Safety Measures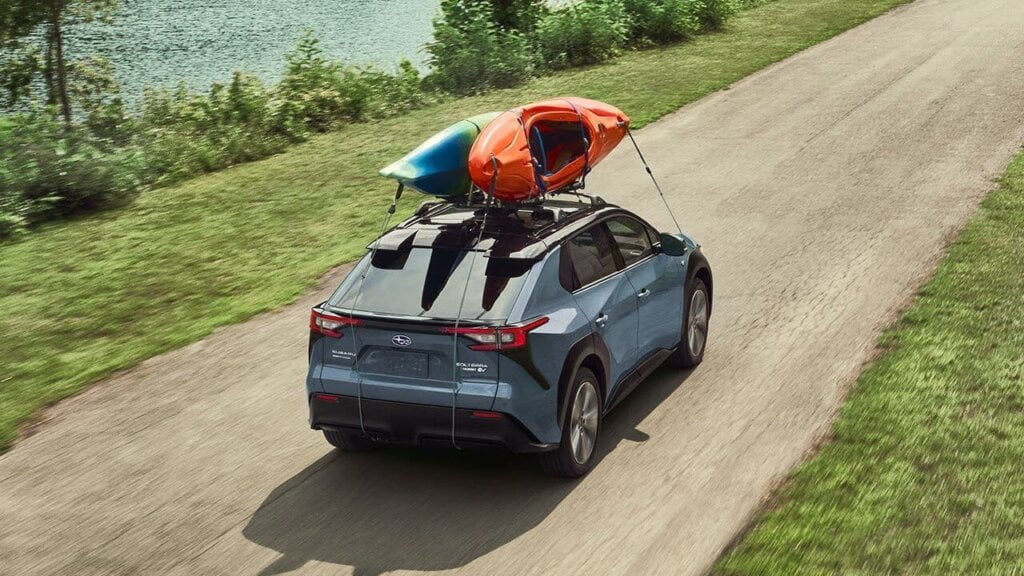 If you need an SUV that can get you where you need to go without too much fuss, the Solterra will be your new favorite vehicle. With several safety-enhancing technologies like dynamic radar cruise control to make your drive safer it would be on top in safety.
Offering many safety-enhancing driving assists, the Solterra has a pre-collision braking system, lane tracing assist, emergency steering assist, and safe exit assist. You can also get a blind-spot monitor and rear cross-traffic alert with dynamic radar cruise control.
For a clear view of all sides of the vehicle, you have a 360-degree panoramic monitor that shows the road just like it is in front of you.