Top 3 Street legal Electric Motorcycle for Adults
When we talk about the motorcycle, it has a different fanbase. Electric motorcycles are becoming increasingly popular due to their quick acceleration, smooth operation, and low maintenance cost compared to traditional fuel-operated motorcycles.
Many electric motorcycles are designed to be lightweight and agile, with a low center of gravity, making them suitable for urban commuting and other types of short-distance riding.
What is Street-Legal Electric Motorcycle?
A street-legal electric motorcycle is a type of motorcycle operated by an electric motor and is designed to use on public roads. To be street-legal, the motorcycle must meet some legal requirements set by the local government, such as necessary security facilities, completing emission standards, and being registered and insured.
Some popular examples of street-Legal electric motorcycles include zero SR/F, Harley-Davidson Livewire, and Lightning Strike LS-218.
These motorcycles are designed to provide high performance, with quick acceleration and a top speed that can rival or cross traditional gasoline-operated motorcycles, while also providing a more durable and environmentally friendly mode of transport.
Top 3 Street legal Electric Motorcycle for Adults
Lightning Strike E-Motorcycle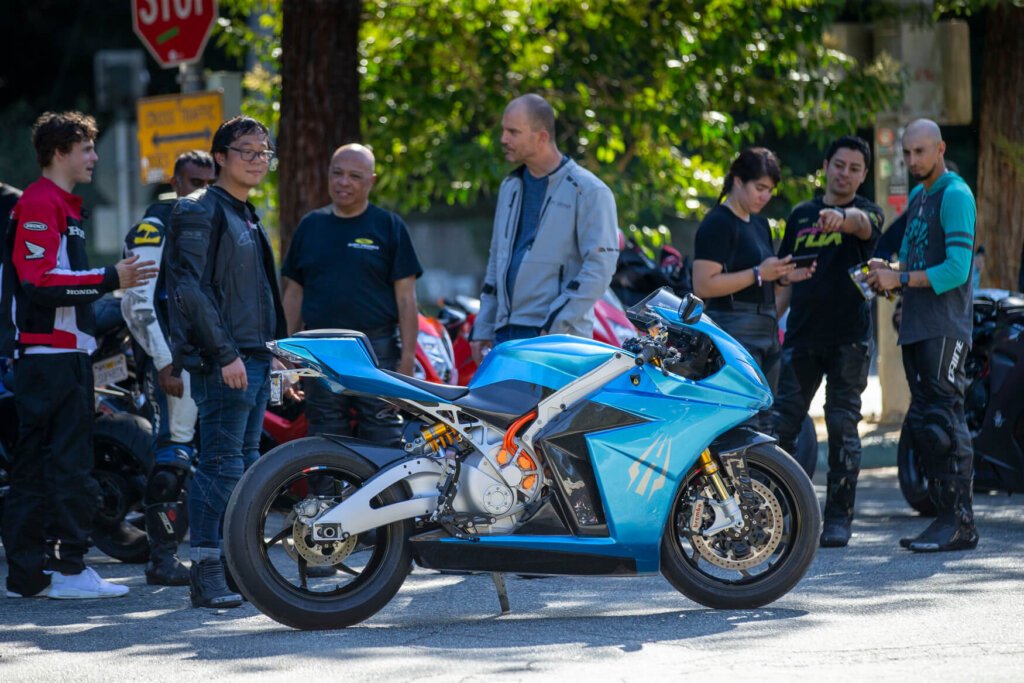 The 2021 Lightning Strike Carbon Edition is perfect for adults looking for a street-legal electric motorcycle. This electric motorcycle offers an impressive top city range of 200 miles, 100 miles of highway range, and 152 miles of combined range, making it a reliable option for long rides.
Price and Specifications
The Lightning Strike Carbon Edition supports fast charging, and the fast-charging time is just 35 minutes ensuring a quick recharge when needed. The electric motorcycle comes with a top speed of 150 mph and a starting price of $19,998.
The Lightning Strike Carbon Edition offers impressive performance and value. The motorcycle has been designed with a sleek carbon fiber body, which makes it visually appealing as well. If you're looking for an electric motorcycle that delivers speed, distance, and style, the Lightning Strike Carbon Edition is worth considering.
| Specification | Details |
| --- | --- |
| Model | Lightning Strike Carbon Edition |
| City Range | 200 miles |
| Highway Range | 100 miles |
| Combined Range | 152 miles |
| Top Speed | 150 miles per hour |
| Charging Time | 35 minutes |
| Starting Price | $19,998 |
Zero SR/F E-Motorcycle
The Zero SR/F is the best street-legal electric motorcycle for adults and also the longest-range electric motorcycle from Zero Motorcycles. The motorcycles offer a balance between performance and budget.
While it might not be the most high-end electric motorcycle in the company's lineup, it is still a practical option for those who want a motorcycle that can deliver both city and highway range. With a city range of 179 miles and a highway range of 90 mph, the SR can travel up to 120 miles on a single charge.
One of the biggest advantages of the Zero SR/F is the increase in range.
This street-legal electric motorcycle offers a much higher range than some of the other models from the brand. While Zero Motorcycles is not chasing performance numbers with this bike, consumers can still take advantage of having an easily manageable motorcycle with a longer range than more expensive models.
Despite the increase in range, you do lose some power as a trade-off. The electric motorcycle makes 70 peak horsepower and 116 foot-pounds of torque, with a top speed of 102 mph.
However, the SR/F features a 14.4-kW power unit as a more expensive option, as well as a passively air-cooled permanent high-temp magnet motor.
Price
If You Are Looking For The Best Street-Legal Electric Motorcycle For Adults or want an electric motorcycle for the daily commute or a more durable option for weekend rides, the Zero SR is worth considering.
With a starting price of $17,990, it's a more accessible option than some of the brand's other models, making it an excellent option for those who want to enjoy the benefits of electric motorcycles without breaking the bank.
Specifications
| Specification | Details |
| --- | --- |
| Model | Zero SR ZF14.4 |
| Range (city) | 179 miles |
| Range (highway) | 90 miles |
| Top speed | 102 mph |
| Peak horsepower | 70 hp |
| Torque | 116 lb-ft |
| Power unit | 14.4 kWh battery pack |
| Motor | Passively air-cooled permanent magnet motor |
| Price | $17,990 |
Harley-Davidson Livewire E-Motorcycle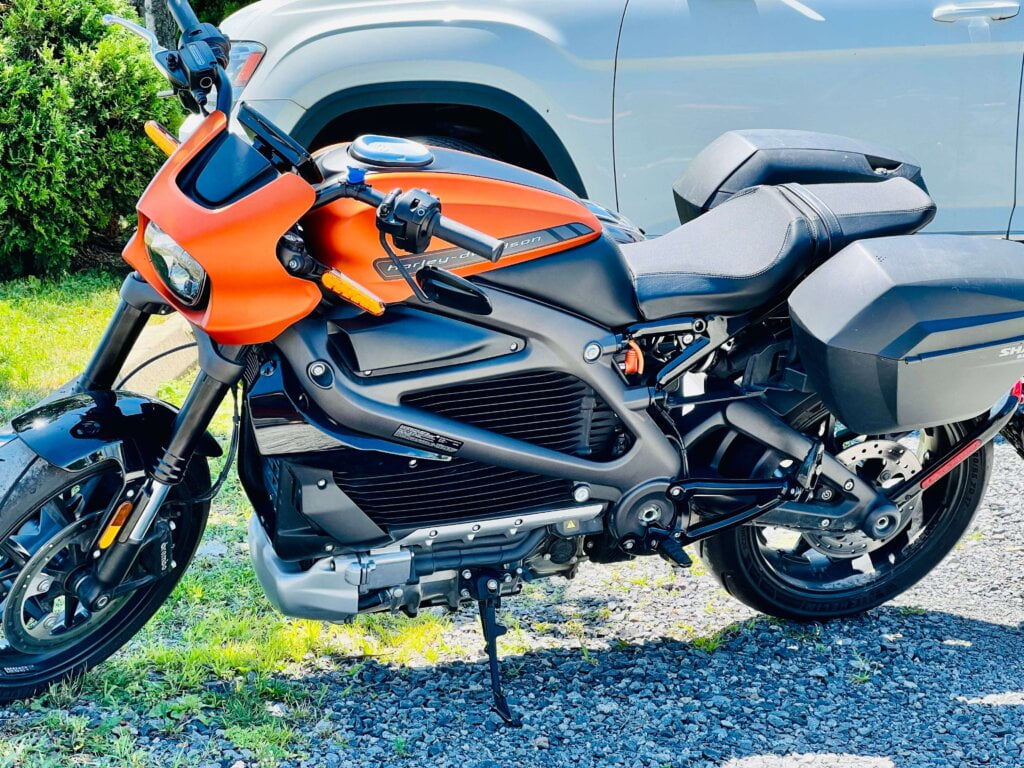 Harley-Davidson has always been synonymous with American motorcycle culture, and with the Livewire electric motorcycle, they embrace the future with style and innovation.
The Livewire e-motorcycle offers a Carly Davidson-styled glass and futuristic Tron-inspired design that is sure to turn heads.
One of the standout features of the Livewire electric motorcycle is its impressive city driving range of 146 miles, making it a practical option for daily commuting. It's worth noting that the Livewire comes with a hefty price tag of $29,799. However, the unparalleled comfort and performance it offers make it a worthwhile investment.
The LiveWire is the best street-legal electric motorcycle for adults, and it's a remarkable achievement in the industry as the first fully electric bike from a mainstream motorcycle company.
The LiveWire has a top speed of 110 mph, and while its range can't match some of its competitors, it's still a significant milestone in the industry.
Price and Specifications
| Specification | Detail |
| --- | --- |
| Manufacturer | Harley-Davidson |
| Model | Livewire |
| Driving range | 146 miles (city) |
| Price | $29,799 |
| Top speed | 110 miles per hour |
| Battery | High-voltage lithium-ion |
| Charging time | 60 minutes to 80%, 12.5 hours to 100% (Level 1) |
| Motor | H-D Revelation permanent-magnet, water-cooled motor |
| Torque | 86 ft-lb |
| Weight | 549 lbs (249 kg) |
| Seat height | 30.7 inches |
| Colors | Orange Fuse, Yellow Fuse, Vivid Black |