5 Best 3-wheel Electric Trike of 2023 (adults)
As the global population continues to increase and greenhouse gases pollute our atmosphere, there is a pressing need for cleaner modes of transportation. the Electric Trike offers a cheaper and more efficient means of commuting compared to cars and is also environmentally friendly. Tricycles have been widely used since the Victorian era and were made famous by young girls.
Today, they are still used for recreational purposes and as a mode of transportation in many parts of the world. 3-wheel Electric Trike is now the latest trend for adults who have coordination and core strength issues.
These Electric tricycles are designed to help individuals feel comfortable riding a bike and are fast and agile, making them ideal for use on country roads or in city traffic. They are also easy to control, making them a popular choice among riders.
In this article, we will explore the 5 Best 3-wheel Electric Trikes of 2023 for adults that are available in 2023.
Malisa Mobility forte
The Malisa Mobility Forte Tricycle is an excellent vehicle for those seeking adventure, whether it's a scavenger hunt, a neighborhood tour, or just a short trip around the block. With its front basket and oversized rear cargo, you can even take your pet for a walk. The net weight of the tricycle is 90.2 pounds, and it can support a maximum load of 440 pounds, making it suitable for anyone on the heavier side.
The Malisa Mobility Forte Tricycle has a body made of aluminum alloy, and it is an electric tricycle with a comfortable seat and backrest. You can pedal as much as you want, or press the thumb throttle and let the motor do 100 percent of the work for you without paying a hefty price.
The Buffon 48-volt, 750-watt front drive spoke will motor provides a maximum speed of 26 miles per hour. This trike can range up to 50 miles with pedal assistance and 38 miles without the pedals. The 48-volt lithium-ion battery takes just five to seven hours to charge.
The tires of the Malisa Mobility Forte Tricycle are 20 by 4 inches and made of rubber, allowing you to ride on all terrain and grip the road better. The shaft drive system has a Shimano 7-speed gear, allowing you to go faster and up any hill with ease. The suspension front fork and lockable front wheel give a smooth ride over rough terrain and bumpy surfaces. With a Melissa tricycle bike, you can enjoy a healthy and active lifestyle and get to where you want to go.
Specifications
| Specification | Value |
| --- | --- |
| Type | Electric tricycle |
| Weight | 90.2 pounds |
| Maximum load | 440 pounds |
| Body material | Aluminum alloy |
| Motor | Buffon 48V 750W front drive spoke |
| Maximum speed | 26 mph |
| Range with pedal assistance | Up to 50 miles |
| Range without pedals | 38 miles |
| Battery | 48V lithium-ion, 5-7 hours to charge |
| Tires | 20 x 4 inches, rubber |
| Gear system | Shimano 7-speed |
| Suspension | Front fork and lockable front wheel |
3Score Electric Fat Trike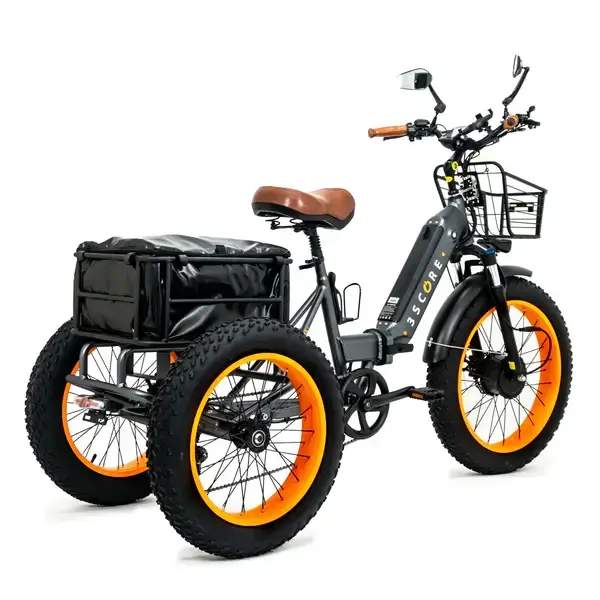 The 3Score Electric Fat Trike is an innovative take on the traditional three-wheel fat tire electric trike. It is designed to offer adults a fun and exciting way to get around town while providing maximum comfort and durability in any environment.
One of the standout features of this trike is its impressive 750-watt geared hub motor, which allows riders to climb hills and ride farther. The 48-volt lithium-ion battery provides a range of up to 45+ miles, depending on terrain and rider weight, with a top speed of 30 miles per hour.
The extra-large 20 by 4.0-inch fat tires make riding over rough terrain, bumpy streets, or grass more comfortable, while the disc brakes offer more control. The trike also features a Shimano seven-speed gearbox for smooth shifting and dual suspension for better shock absorption on bumpy roads.
The plush seat is ergonomically designed for maximum comfort, and the aluminum alloy frame makes the trike extremely durable, even in harsh environments. The high-contrast 3.5-inch IPS colorful matrix display, USB port for charging on the go, and horn for alerting others further enhance the trike's functionality and safety.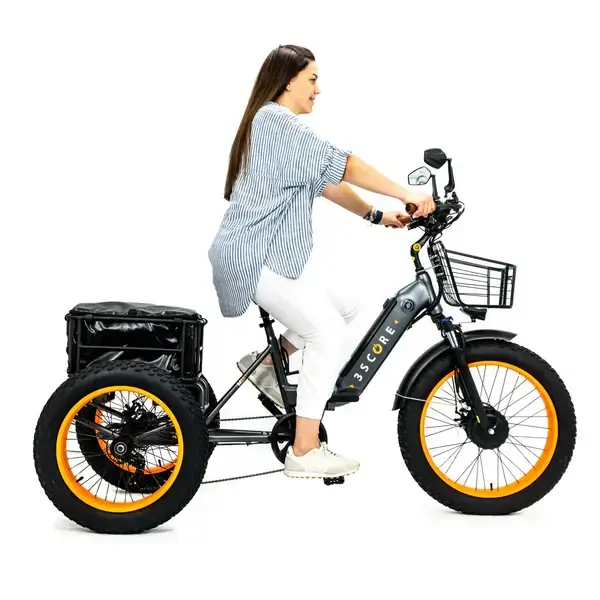 The 3Score Electric Fat Trike is also designed with practicality in mind. It features an oversized rear basket and front basket that allows riders to carry any load without compromising their comfort or visibility. Additionally, a full range of ThreeScore accessories such as fenders, cargo baskets, racks, lights, bottle holders, and phone holders make the trike truly stand out.
Specifications
| Specification | Details |
| --- | --- |
| Motor | 750-watt geared hub motor |
| Battery | 48-volt lithium-ion |
| Range | Up to 45+ miles |
| Top Speed | 30 miles per hour |
| Tires | 20″ x 4.0″ fat tires |
| Brakes | Disc brakes |
| Gearbox | Shimano seven-speed |
| Suspension | Dual suspension |
| Display | 3.5-inch IPS colorful matrix |
| Accessories | Fenders, baskets, racks, etc. |
| Additional Features | Plush, ergonomic seat, aluminum alloy frame, USB port, horn |
DWMeigi MG1703
DWMeigi MG1703 is a step-through three-wheel electric bike with a 58 L storage capacity. As a leader in electric bikes with a strong reputation in the market, DW Meigi has a long history of satisfied customers. The MG1703 is equipped with a sturdy and durable steel frame that can hold a maximum weight of 330 pounds.
One of the most stable rides available, the MG1703 is powered by an advanced 48-volt 750-watt motor that can take the bike to a maximum speed of about 20 miles per hour, providing a maximum torque of 80-newton meters. The 48-volt lithium-ion battery is easily removable and can be fully charged in only four to five hours with a 48-volt 3-ampere supercharger. It offers a range of over 60 miles and can go up to 45 miles on a single charge.
Read More: Find the Perfect EV with EVFinder
The high-contrast LCD allows riders to track their current speed, miles traveled, and battery charge. The bike also features a USB port so riders can listen to music or use it to charge their smartphones as they ride. The seven-speed shifters are integrated into the brake lever, so riders can change gears without letting go of the handlebars.
The MG1703 has a 20-inch by 4-inch front tire and a 20-inch by a 4-inch rear tire that is large enough to handle any road conditions for a comfortable ride. The adjustable seat and suspension fork can help make your ride more comfortable. The full-size storage basket conveniently holds two grocery bags worth of goods for your daily shopping errands. With the large 58 L storage space and an included waterproof bag, this electric tricycle is the perfect companion for your daily routine.
Built with sturdy and durable materials, the Magi MG 1703 is backed by a one-year comprehensive warranty. If you are looking for a reliable and comfortable electric tricycle, the DW Meigi MG1703 is worth considering.
Specifications
| Feature | Specification |
| --- | --- |
| Frame | Step-through steel |
| Load Capacity | 330 lbs (150 kg) |
| Motor | 48V 750W |
| Battery | 48V Lithium-ion |
| Charging Time | 4-5 hours |
| Maximum Speed | 20 mph (32 km/h) |
| Maximum Torque | 80 Nm |
| Range | Up to 45 miles (72 km) |
| LCD Display | Speed, distance, battery charge level |
| USB Port | Yes |
| Gear Shifters | 7-speed integrated into the brake lever |
| Tires | 20″ x 4″ front and rear |
| Suspension | Front fork suspension, adjustable seat |
| Storage | Full-size basket (58L) |
Evelo Compass Trike
The Evelo Compass is the best electric trike for adults that is designed for navigating every road and trail. It features a simple, sleek, and functional design, with a sturdy and comfortable aluminum alloy frame. The step-through design allows the rider to get in and out of the seat comfortably, while the powerful rear rack allows them to carry everything from groceries to a surfboard.
The tricycle is powered by a high-performance mid-drive system, with a powerful 500-watt mid-drive motor that provides a maximum speed of 20 miles per hour. The high-torque Panasonic lithium-ion 48-volt battery, with advanced battery management software, allows the rider to explore longer distances. The larger battery pack can cover up to 40 miles on pedal assist mode and 80 miles with a battery add-on.
The 24-inch by 2.4-inch CST Cyclops tires give ample traction to ride over any terrain, while the all-weather front and rear fenders protect the rider from water and dirt. The front and rear lights indicate when the bike is powered on, making the rider visible to other road and trail users.
The Evelo Compass features a Shimano grip shifter, offering three gears to choose from, and a front disc brake that provides great stopping power. Whether commuting to work or going for a leisurely ride around the park, the Evelo Compass is a great way to get the rider where they need to go. It is no wonder that this is the most popular model in the Evelo line of electric tricycles.
Specifications
| Specification | Details |
| --- | --- |
| Model | Evelo Compass |
| Frame Material | Aluminum Alloy |
| Maximum Speed | 20 miles per hour |
| Motor | 500-watt mid-drive motor |
| Battery | Panasonic Lithium-Ion 48V battery |
| Battery Range | Up to 40 miles on pedal assist mode, 80 miles with add-on |
| Tires | 24″ x 2.4″ CST Cyclops |
| Gears | 3-speed Shimano grip shifter |
| Brakes | Front disc brake |
| Lights | Front and rear lights |
| Rear Rack | Yes |
| Weight Capacity | Not specified |
Emojo Caddy Pro electric trike
The Emojo Caddy Pro is a versatile and practical electric trike that is perfect for running errands around town. This trike can carry up to 15 pounds of cargo and has a sturdy chrome alloy steel frame. The rear basket is also sturdy and can hold all your grocery items.
The Caddy Pro is a high-performance electric trike for adults with fat tires that can carry up to 300 pounds and is powered by a 500-watt brushless motor that provides a top speed of 20 miles per hour. With its 48-volt battery, the Caddy Pro can go up to 30 miles on a single charge.
The four-inch wide tires allow you to ride confidently in any terrain, while its superior disc hydraulic brakes provide better control and safety. The trike also features automatic braking lights, a 7-speed shifter, and front suspension to provide a smooth and enjoyable ride. The unique LCD shows the remaining battery life and the number of calories burned.
Specifications
| Specification | Description |
| --- | --- |
| Model | Emojo Caddy Pro |
| Payload Capacity | 15 pounds |
| Material | Chromoly alloy steel |
| Motor | 500-watt brushless motor |
| Top Speed | 20 miles per hour |
| Battery | 48-volt battery |
| Maximum Range | 30 miles on a single charge |
| Tires | 4-inch wide tires |
| Brakes | Superior disc hydraulic brakes |
| Suspension | Front suspension to absorb energy and smooth out the ride |
| Shifter | 7-speed shifter |
| LCD Display | Shows battery life and calories burned |
| Additional Features | Sturdy rear basket for carrying items, automatic braking lights |
| Weight Capacity | Can carry up to 300 pounds |